Who Can You Trust in Lexington to Help You With Your Hearing?
Imagine a world without sound, or only garbled sounds. You'd miss a lot! Imagine what you'd miss hanging out with friends, having dinner with your family, playing with your kids or grandkids—even hearing the birds in your yard.
Which is why we are committed to helping you improve your hearing and get more out of life.
Hearing plays such a crucial role in your overall health and well-being – from helping to prevent dementia to keeping you connected to your family. We are dedicated to restoring your ability to hear. Meet Tinder Krauss Tinder Hearing Center's team.
Meet the Team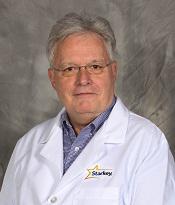 Jon Durkin, BC-HIS, ACA
Board Certification in Hearing Instrument Sciences
Jon Durkin has been with Tinder Krauss Tinder Hearing Center since 1973. He has been taking care of the hearing needs of Central Kentuckians for over 40 years and has helped thousands of people along the way. He is compassionate about improving the lives of his patients through better hearing, and he embraces the new technologies available today for hearing aid wearers.
A graduate of Eastern Kentucky University, he has a wealth of experience in the hearing aid industry. Besides taking care of thousands of hearing aid patients over the years he has served in numerous state, national, and international positions within the hearing aid industry. He served as president of the Hearing Aid Association of KY, president of the International Hearing Society, headquarted in Michigan, Chairman of the National Board for Certification in Hearing Instrument Sciences (NBC-HIS), as well as a member of NBC-HIS's examination committee for over 26 years.
Jon has served two terms on the KY Licensing Board for Specialists in Hearing Instruments. He has spoken to hearing professional groups in Washington, DC, Orlando, FL, Nashville, TN, Tucson, AZ, Dallas, TX, and Anaheim, CA, just to name a few. He was present to speak to the Japanese Hearing Aid Dispensers meeting in Tokyo, Japan in 1996. And he spoke at the Federal Food and Drug Hearings on the hearing aid industry in 1993, in Rockville, MD, with CNN cameras rolling and several US Senators and other dignitaries present.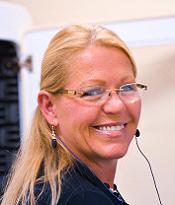 Vicky Durkin, BC-HIS, ACA
Board Certification in Hearing Instrument Sciences
Vicky Durkin came into the hearing health industry with a medical background. She worked at an ENT practice for nearly twenty years near Florence, Alabama. She is board certified by the National Board for Certification in Hearing Instrument Sciences (NBC-HIS), licensed by both Alabama and Kentucky, and is a graduate of the Audioprosthology program (ACA). Vicky is also a licensed nurse in Kentucky and Alabama.
She served on the board of directors for the Alabama Hearing Health Professionals, and also as their Education Chair Person for the annual Alabama/Georgia Educational Seminar held each summer. In 1999 Vicky was picked by NBC-HIS to serve on their Exam Committee, and excelled in that position for 10 years. Vicky was also honored to be asked to be a seminar leader at the 1999 International Hearing Society's Convention in Philadelphia, PA.
Vicky brings a positively rare and beneficial combination of things to her approach to hearing health care. As a hearing aid wearer for over 30 years, her understanding of the patient's situation is greater than most of the people fitting hearing aids today. She has a medical background as a nurse, so her care and concern for the patient are paramount. Vicky is very detailed in her approach to helping her patients, and leaves no stone unturned.